You don't stumble upon your heritage. It's there, just waiting to be explored and shared
Robbie Robertson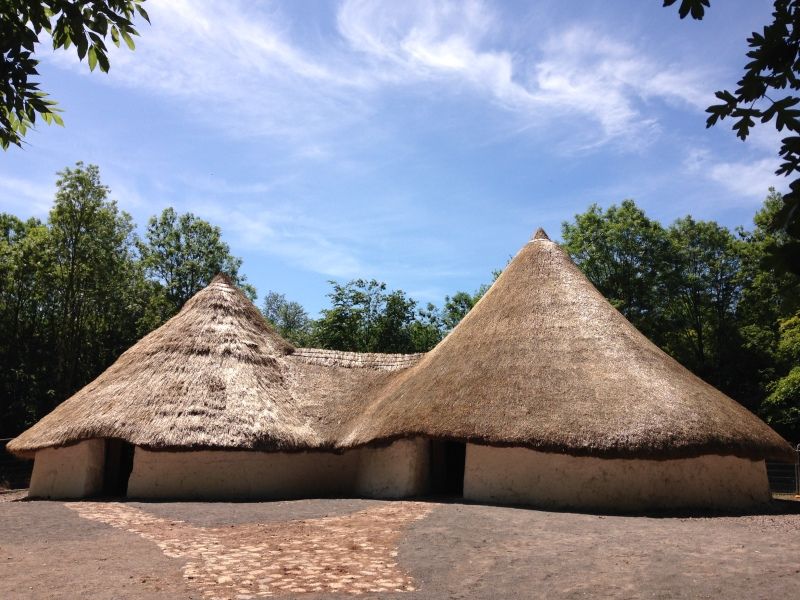 Bryn Eryr ironage farmstead. Picture from the St Fagan's website
Life can be an expensive business. Bringing up children more so, as any parent knows. Quite apart from putting food into their stomachs, clothes on their backs and a roof over their heads, we also need to provide entertainment and education. Happily, those last two can sometimes be combined and (even more happily) occasionally you find a place that ticks all the boxes for very little outlay of cash.
One such place for us was St Fagan's just outside Cardiff, the museum of Welsh history that's part of the National Museum of Wales complex. Entry is free, although I can remember a time when you had to pay. For anyone who hasn't visited this gem, I should take a moment to explain that St Fagan's presents and celebrates the history of the people of Wales; and that although there are impressive indoor galleries and collections (currently undergoing a massive re-organisation), the main attraction for children is the outside space and the old buildings scattered across the site, each of which is accessible and presented beautifully with exemplary attention to detail.
Some of these have been built here from scratch, and I'll get to those in a 'mo, but most are authentic and have been sourced from all over the country. Carefully taken down stone by stone, wooden rafter by wooden rafter, each piece labelled and mapped, and then meticulously re-assembled. So there are farmhouses that began their lives in Glamorgan, Montgomeryshire, Radnorshire and Caernarfonshire, that date from the beginning of the 15th century. There are cottages, mills and barns, as well as a dovecote, pigsty and a cockpit. The industrial era that played such a pivotal role in the Welsh timeline is well represented, with workers' houses, a communal bread oven and a workmen's institute. All were painstakingly re-erected, some in the 1950s when the Museum first opened, some much more recently. The latest of these projects is the installation of the Vulcan Hotel, a 19th century pub from Cardiff. It was dismantled in 2012 and is still being reconstructed.
Kennixton Farmhouse, a 17th century farmhouse that was moved from its original location north of Swansea in Glamorgan, in the 1950s. Walls were traditionally painted in this red limewash to protect the dwelling from evil spirits. A rowan tree was planted near the house for the same reason
In addition there is St Fagan's Castle – strictly speaking not a castle but an Elizabethan manor that was built here in 1580-90. Apparently the house played no part in the Battle of St Fagan's of 1648, one of the last conflicts of the English Civil War, and certainly the bloodiest that took place on Welsh soil. I can't help wondering, though…there was a battle involving thousands going on within a couple of hundred yards; had the house been hurriedly evacuated? Were people hiding beneath tables or inside cupboards? Did Colonel Thomas Horton, victorious commander of the Parliamentary troops not take advantage of the manor to rest and have a meal or two?
The beechwoods at St Fagan's, peaceful today but the scene of the bloody battle of 1648
There's also a Victorian school on the site and most parents living in south eastern Wales (and maybe further afield) will remember the visits made by their children when at primary school. The St Fagan's Day was the highlight of the term, when the class was transported by several miles and a hundred or so years to spend a few hours finding out how their earlier counterparts were instructed and disciplined. The great news is that one of the current projects will allow school children an even greater treat – the opportunity to stay overnight in a medieval hall. Gosh, I'm sooo envious!
Llys Llywelyn is being built even as I write. The plan is based on Llys Rhosyr, Ynys Môn (Anglesey) one of the courts of the Royal House of Aberffraw, and named for Llywelyn ap Iorwerth, otherwise known as Llywelyn the Great. As you'd expect, there's also been extensive consultation with experts and a huge amount of research into the nature and appearance of high status Welsh medieval buildings. The artists and craftsmen at St Fagan's are currently decorating and furnishing the inside of what will be a stunning addition to the centre.
The main hall at Llys Llywelyn, taken through the fence
Smaller chamber alongside the hall
A couple of weeks ago we were in Cardiff so that Mr B could play golf with his brothers…even a visit to the dentist sounds more appealing…and I took the chance to revisit St Fagan's for the first time in forever. (That's if you don't count a fleeting visit a couple of years ago when Alex was involved in organising a Civil War Re-enactment day, but on that occasion we toured the food and drink stalls, listened to live music and watched some colourful but thankfully harmless skirmishes between 17th century militiamen.)
Obviously I made a bee-line for Llys Llywelyn and stood for ages with by nose practically pressed up against the fence. It already looks striking and I'm willing to bet my last chocolate hobnob that it is going to be spectacular. The team involved have been posting pictures on Twitter:
Work in progress inside the hall, taken from the Twitter account @StFagans_Museum
From there I walked up to the church of St Teilo, constructed originally in about 1100, though as with many ancient churches it was built over an earlier site of worship; a stone cross found at St Teilo's dates to about 800 AD. The interior is decorated as it would probably have been in about 1530, before Henry VIII's tantrum that led to the Dissolution (for that read systematic, state sponsored vandalism) and there's a link here to see the inside. Have a look – most churches of the time would have been adorned like this. These paintings are based on originals which were found on the walls of St Teilo's beneath centuries of layers of whitewash.
St Teilo's church, moved from its position near a bend in the River Loughor at Llandeilo Talybont. Known as the 'Church in the Marsh' because of the boggy ground on which it was situated
Sadly, all too soon it was time to meet up with the golfers. Only the promise of lunch dragged me away and I'm planning a return visit before too long.
*
The recent spate of fine weather has encouraged us out on several walks and a few days ago we tramped around Llangors Lake, which is about 7 miles from us. The lake is natural but the island set within it isn't. Known as a crannog, it was constructed sometime after the Romans left and was the site of the palace of a local prince. Palace is probably overstating it…
The crannog, beyond the boats and covered in trees
Mr B making for the hills, though he didn't make it as far as Penyfan, seen on the right
This meadow was full of wild flowers. The building on the right is the historic Ty Mawr Farm, whose owners run a company which specialises in traditional building materials, including lime wash (see link at the end)
This walk wasn't long but we still felt that we deserved an ice-cream for being so energetic on such a hot day. I think this poor guy wanted one too…
Life is personal not national…history is as much about the details of people's daily existence as it is about national events
St Fagan's National Museum of History website
If you feel like a walk around Llangors have a look at this: around llangors
Take insect repellant! There's a bird hide if you're interested and Ty Mawr Farm is open Thursday- Saturday, when you can buy refreshments and produce from their kitchen garden. They also run courses with topics including art, gardening and traditional building techniques.
PS – Llangors without the 'e' on the end is the Welsh spelling x